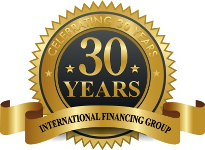 Now the market has changed.
Foreign national mortgages are available right now; IFG provides the finance that helps you with your sale and your client with their purchase. 30 day closings are once again more realistic, so if you have buyers requiring a loan, have them pre-qualify with us. It's that simple…
REAL ESTATE AGENTS – CONTACT: [email protected]
HAVING TROUBLE DEALING WITH ALL THE CHANGES IMPOSSED BY THE LENDERS ON YOUR FOREIGN NATIONAL BUYERS?
LET OUR 30 YEARS IN THIS NICHE MARKET WORK FOR YOU !
IFG are bringing a new level of personal service back to the banking industry where helpfulness, competence, honesty and efficiency has been sadly missing in past years.
Tell us what your needs are and we will work hard to deliver.
MORTGAGE BROKERS – CONTACT: [email protected]
REAL ESTATE DEVELOPERS – CONTACT: [email protected]
INTERNATIONAL PROJECT FUNDING – CONTACT: [email protected]
GENERAL ENQUIRIES – CONTACT: [email protected]